Protecting Endangered Species through Faster Data Access
To protect threatened biodiversity, NatureServe works with nearly 100 organizations and over 1,000 conservation scientists to collect, analyze, and deliver standardized biodiversity information, providing comprehensive spatial data to meet both regulatory and conservation needs. NatureServe and its network partners develop and manage data for over 100,000 species and ecosystems, answering fundamental questions about what exists, where it is found, and how it is doing.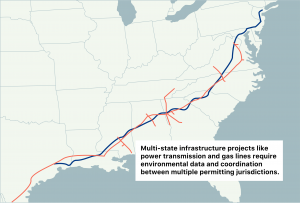 Most land use decision makers and industry stakeholders spend enormous time, energy, and resources seeking the best available and most relevant environmental data as they work through land permit processes. The data required for a land use permit includes the distribution and abundance of key species and, in particular, the habitats of endangered species. However, the data is often with various owners and contributors, has yet to be collected, is out of date, or hard to find and access. The problem becomes especially acute when trying to make development decisions with the least harmful environmental impact across multiple jurisdictions, for example, across state lines. Trying to get the right data quickly is a fragmented, frustrating experience for companies working on such projects. 
For nearly 50 years, NatureServe has been working with the U.S. Natural Heritage Programs (NHPs) and Canadian Conservation Data Centres (CDCs), together, the NatureServe Network, to collect and aggregate standardized environmental data on rare and endangered species for every jurisdiction in North America. Individual NHPs and CDCs contribute data to NatureServe to aggregate and make it accessible to land use decision makers. By consolidating information about these species and their habitats, NatureServe's partners in the NHPs and CDCs ensure the public can get the necessary information to evaluate the ecological impact of development. What is lacking is an easy-to-use, one-stop-shop online tool for accessing these data.
Students at the Cal Poly Digital Transformation Hub (DxHub) began the project of developing this tool by interviewing NatureServe customers to gauge what barriers customers encounter when using NatureServe Network data. The DxHub used that information to create fictional personas and empathy maps, highlighting the goals and pain points of NatureServe's key clients. The DxHub facilitated workshops to focus the team's solution on the customer experience. 
The NatureServe team designed a consolidated online resource for land use and conservation professionals that provides streamlined access to high-quality environmental data. The solution provides easy online access to the authoritative NatureServe Network data for documented presence locations and predicted habitat models for the most at-risk species in North America.
The first new element will be a guided user interface where users identify their area of interest and what they are trying to accomplish with their project. Since users will be presented with relevant data that's based on their area of interest and sorted by quality, they do not need to know all of the specific data sets needed for a particular project.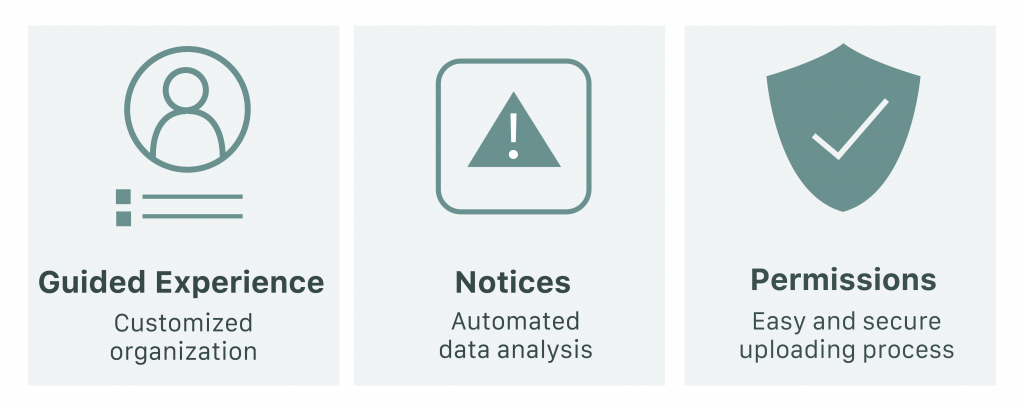 The platform will display recommendations about species and habitats in the search area about which users should be aware. These notices will save customers hours of manual data analysis.
A key feature of NatureServe's online platform will be the ability for users to contribute new data regardless of format, allowing them to combine NatureServe data with data from other sources to gain a more complete understanding of the study area. ArcGIS, a geographic information system developed by Esri, is used to store, process, and publish spatial data. Natural Heritage Programs and Conservation Data Centres can submit their data in a common geospatial format such as a shapefile, and that data will be integrated into the system. ArcGIS will be hosted on a set of EC2 instances (a web service that provides secure, scalable compute capacity) with EBS and S3 as the storage mechanism for the data, so a physical data center is not required. 
Data providers will also be able to set access and resolution permissions upon upload to ensure their data won't be misused or shared without their consent. The results of each study area will be exported to customizable reports that can help inform decisions to protect sensitive species from harm.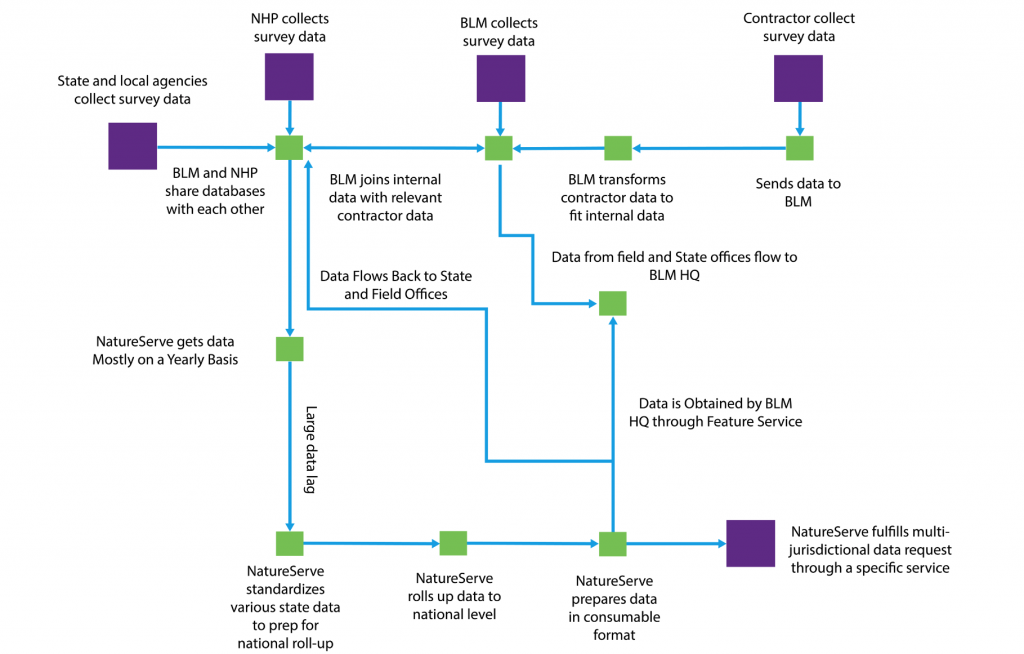 Too many decision makers responsible for strategic conservation planning lack current and complete environmental data relevant to land use. The NatureServe team is creating a data-driven conservation planning and environmental screening tool to provide updated, easy access to multi-jurisdictional environmental data that provides the most complete picture of where at-risk species are known or likely to occur. Using Amazon's Working Backwards process, the team was able to create a prototype of a new platform for NatureServe that will empower professionals, organizations, and the public to make informed decisions based on holistic data.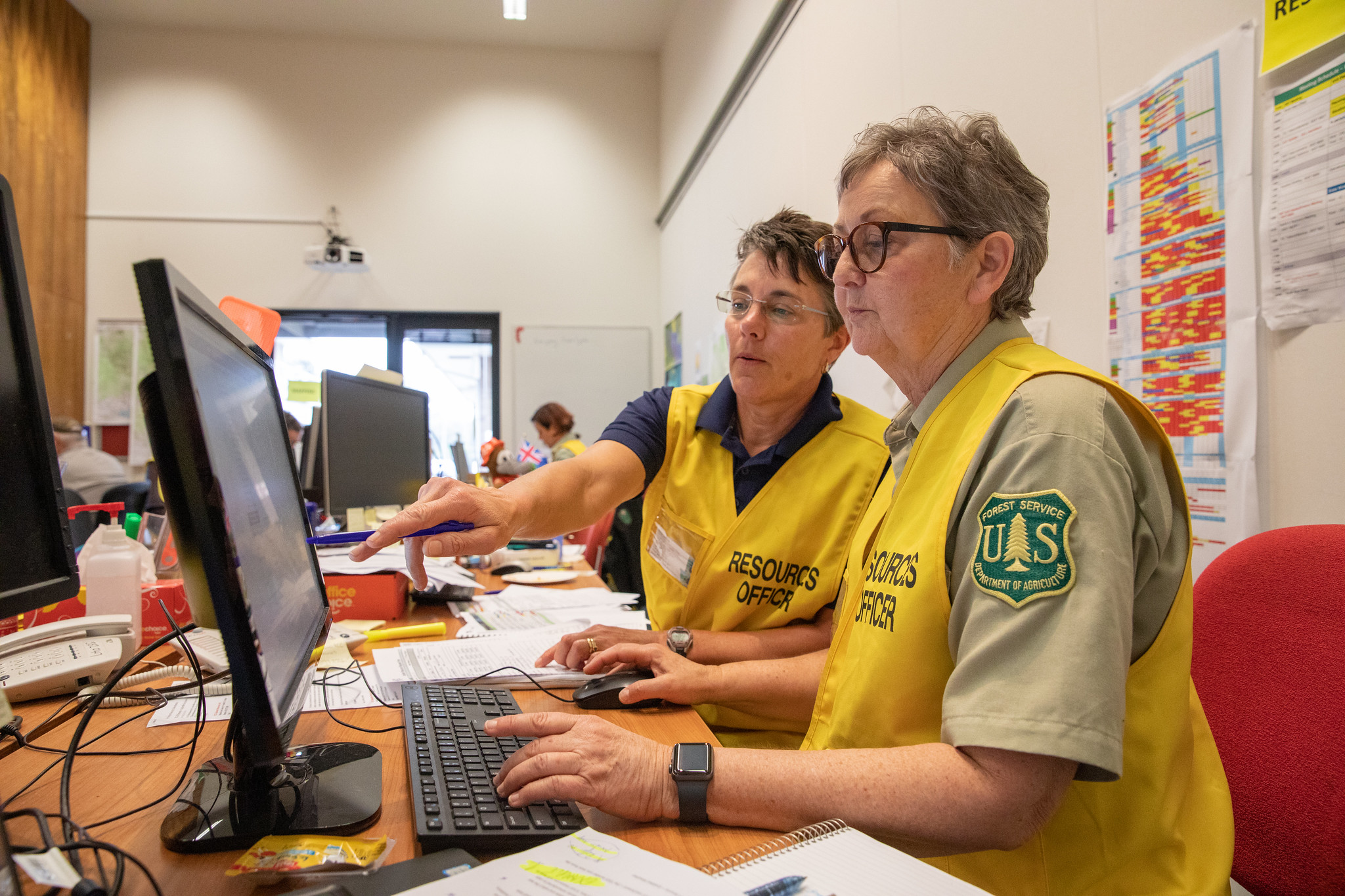 Photo Courtesy of The Department of the Interior.
The DxHub innovation process based on Amazon's Working Backwards methodology results in several artifacts that help inform and guide the result. Below is a description of each and their purpose in the process.
| | |
| --- | --- |
| Press Release & Frequently Asked Questions | During the Innovation Workshop, a fictional Press Release and nonfictional Frequently Asked Questions are drafted. This is a tool that is used to define the solution and why it matters to the customer. |
| UI/UX | An example of the user interface that demonstrates the solution. |
| Storyboard | A series of frames are designed to illustrate the problem and the impact of the solution visually. |
Cal Poly's Digital Transformation Hub (DxHub) was one of the earliest collaborations between Amazon Web Services (AWS) and an educational institution focused on innovation and digital transformation. While providing students with real-world learning experiences, the DxHub applies proven innovation methodologies in combination with the deep subject matter expertise of the public sector and the technical expertise of AWS to solve challenging problems in ways not contemplated before. For more information, visit dxhub.calpoly.edu.