Law Enforcement Innovations Day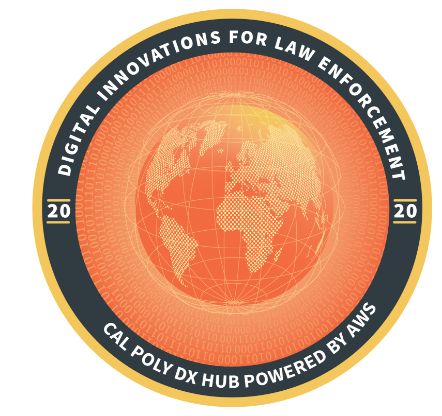 About the Event Join us to learn about solving challenges in law enforcement using a proven innovation methodology in combination with the latest technologies. You'll hear how the Cal Poly Digital Transformation Hub worked with law enforcement organizations such as the California Attorney General's Office E-Crime Unit, San Leandro Police Department, and Iowa City Police Department.
The event will commence with a keynote presentation from Chief Ralph Brown, from the POST Training Delivery & Compliance bureau. Following the keynote speech, you will learn about high tech solutions created in partnership between the Cal Poly DxHub and law enforcement agencies. The afternoon session will focus on learning Amazon's innovation methodology, and how to apply it to your own specific customer-focused problem/opportunity within the law enforcement community.
The seminar is eligible for 8 hours of POST #1348-28000-19.
Friday, May 8th
8:30AM-5:30PM
Hotel SLO, San Luis Obispo
Sponsored by the Cal Poly Digital Transformation Hub, powered by Amazon Web Services
8:30 – 9:00AM
Check-in and hosted continental breakfast
9:30AM sharp
Keynote speaker: Chief Ralph Brown, Bureau Chief, Training Delivery & Compliance, POST Morning session Presentation on work to date with the California Attorney General's Office and police departments around the country
12:00PM
Hosted lunch
Afternoon session
Workshop on Amazon's innovation methodology and brainstorming with attendees on challenges in law enforcement that may be addressed with digital solutions
4:15PM
Closing remarks
4:30PM
Hosted happy hour on the terrace for attendees
Hotel SLO
877 Palm St, San Luis Obispo, CA 93401
From 101 N
1. Take Exit 202B for Broad Street
2. Continue onto Broad Street
3. Turn left on Palm Street
4. Destination on right
From 101 S
1. Take Exit 202B for Broad Street
2. Continue onto Broad Street
3. Turn right on Lincoln Street
4. Turn right at the 1st cross street onto Chorro Street
5. Turn left onto Palm Street
6. Destination on right
From SLO County Regional Airport
1. Head northeast on Aero Dr toward Broad St
2. Turn left onto CA-227 N/Broad St
3. Turn right onto Santa Barbara Ave
4. Continue onto Osos St
5. Turn left onto Palm St
6. Destination will be on the left
Public Transit Options
Amtrak offers daily transportation from Southern California (San Diego, Los Angeles, Santa Barbara) to San Luis Obispo starting at $35.
Amtrak also offers daily transportation from the Bay Area (San Francisco, San Jose, Oakland) to San Luis Obispo starting at $35


Need a Place to Stay?
We are reserving a block of hotel rooms that meet the POST stipend requirements. Please include your email address with your registration so that we can send you details.
Law Enforcement Challenge Highlights
Voice Activated License Search
While squad cars have always functioned as officers' base of operations, they now contain computer-aided dispatch systems (CAD), which provide officers with rapid access to important police database information. CAD systems are used to search license plates, drivers' licenses, and identification cards from police databases while on the go. These CAD systems are considered an invaluable and necessary tool for most officers but still rely on keyboard input which can be difficult to use on the go. With this in mind, the Iowa City Police Department (ICPD) partnered with the DxHub to develop a prototype to demonstrate how their CAD system can be improved with the use of voice commands. Using Voice-Activated License Search removes the need for law enforcement officers to use a keyboard and touchscreen while driving, allowing them to focus on their surroundings at all times. Voice-Activated License Search will help keep the Iowa City community safer while assisting officers in focusing on the important aspects of their jobs.
Improving the Way Investigators Discover and Subpoena Digital Evidence
It is complicated and confusing for criminal investigators to acquire digital evidence data that is pivotal to an investigation from third-party providers like Facebook, Google, and Uber. The California Attorney General Office's E-Crime Unit approached the DxHub with the intention of reinventing the way investigators find and subpoena digital evidence. By utilizing Amazon's Working Backwards process, they designed a solution that would allow investigators to search for digital evidence by both crime and data type. Using AWS technology, a prototype will be built, allowing investigators to quickly and intuitively understand which data sets are accessible from popular technology platforms based on the particular details of the crime and types of evidence. In addition, the solution will search a database of relevant search warrants and walk investigators through the appropriate steps and resources needed to issue a warrant.
Data Driven Justice
The San Leandro Police Department (SLPD) sought to explore ways that the City of San Leandro could react to crime trends before they occur. The DxHub and SLPD team considered using Evidence Based Policing (EBP) to solve this issue. EBP is a methodology that leverages the scientific method and experts to collect and analyze high quality data from a variety of disparate data sets, to test public safety related hypotheses, and examine possible correlations or causations. The data needed to perform this analysis comes from a variety of public and private sources, including census, weather, transportation, land use, business licensing, social services, public health, and law enforcement. Championed by the DxHub and with the help of Cal Poly students a lean prototype was built using a number of AWS services, which allowed them to test and validate the prototype in a lean and agile way. The resulting prototype included data ingestion architecture that collected, cleaned, and queried data from private and public sources. The data was then featured on the web connected evidence based policing application.

The Cal Poly Digital Transformation Hub (DxHub) is a strategic relationship with Amazon Web Services (AWS) and is the world's first cloud innovation center supported by AWS on a University campus. The primary goal of the DxHub is to provide real-world problem-solving experiences to students by immersing them in the application of proven innovation methods in combination with the latest technologies to solve important challenges in the public sector. The challenges being addressed cover a wide variety of topics including homelessness, evidence-based policing, digital literacy, virtual cybersecurity laboratories and many others. The DxHub leverages the deep subject matter expertise of government, education and non-profit organizations to clearly understand the customers affected by public sector challenges and develops solutions that meet the customer needs.